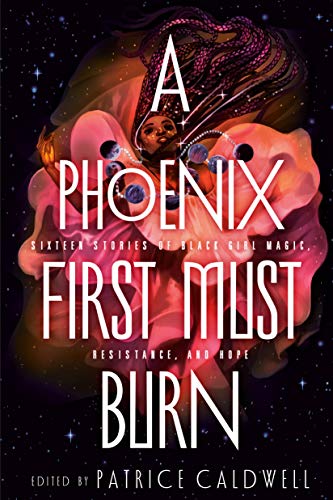 A PHOENIX FIRST MUST BURN (Viking)
Sixteen tales by bestselling and award-winning authors that explore the Black experience through fantasy, science fiction, and magic.
Evoking Beyoncé's Lemonade for a teen audience, these authors who are truly Octavia Butler's heirs, have woven worlds to create a stunning narrative that centers Black women and gender nonconforming individuals. A Phoenix First Must Burn will take you on a journey from folktales retold to futuristic societies and everything in between. Filled with stories of love and betrayal, strength and resistance, this collection contains an array of complex and true-to-life characters in which you cannot help but see yourself reflected. Witches and scientists, sisters and lovers, priestesses and rebels: the heroines of A Phoenix First Must Burn shine brightly. You will never forget them.
Contributors include Elizabeth Acevedo, Amerie, Patrice Caldwell, Dhonielle Clayton, Jalissa Corriel Somaiya Daud, Charlotte Nicole Davis, Alaya Dawn Johnson, Justina Ireland, Danny Lore, L.L. McKinney, Danielle Paige, Rebecca Roanhorse, Karen Strong, Ashley Woodfolk, and Ibi Zoboi.
BECAUSE YOU LOVE TO HATE ME (Bloomsbury)
This unique, New York Times-bestselling YA anthology presents classic and original fairy tales from the villain's point of view. The book's unconventional structure--thirteen of the most influential BookTubers on YouTube join forces (writing-prompt style) with thirteen acclaimed and bestselling authors--gives these mysterious, oft-misunderstood individuals characters a chance to tell their stories, their way.

Like Maleficent or Wicked, these are stories of vengeance, of defiance, of rage. They are stories of pain, of heartbreak, of sorrow. But don't expect a circle of hands. Leave it to the heroes to help the world; villains just want to rule the world. We love to hate them and they hate to be loved, if only because being hated frees them from having to be good.

Contributing authors include bestselling and buzzy names Renée Ahdieh, Soman Chainani, Susan Dennard, Sarah Enni, Marissa Meyer, Cindy Pon, Victoria Schwab, Samantha Shannon, Adam Silvera, Andrew Smith, April Genevieve Tucholke, and Nicola Yoon, with a foreword and a story from anthology editor Amerie.
"A diverse array of high-profile authors are showcased...and the inclusion of the BookTubers is an interesting idea that allows for a range of perspectives. The concept alone is enough to draw readers, so stock up—it's never been so fun to be bad."
-- Booklist
"...an explosively entertaining joy ride of villainous goodness."
-- Kirkus